[insert] Check this out guys. Lemon Tree Guy isn't the biggest clown in the Idol competitions apparently...
http://www.geckoandee.com/idol/MI_W4_Britney_Barbie_Sexy_Shorts.wmv
Courtesy of Angie Pangie, who's just sent me an email with all the links. Thanks gal!
[end insert]
I hate it when I get a great idea.
And it hounds me day and night.
Refuses to let me sleep properly.
Until it gets released.
It's almost 2am, but I'm still fired up with creative energy. [curse you, muse. couldn't you hit me in the daytime instead?]
And I've come up with:
1 fully-working GTS website. [had to chope the space before someone else did. But won't release it in the blog until I feel it's time. :p Or that I can handle the drawing]
1 terrible cartoon [all lettered] with bad jokes
3 rough cartoon sketches
3 new GTS pix, here's one: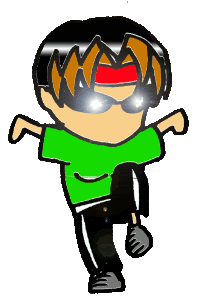 GTS shows off her best Bruce Lee impersonation.
My muse is like my cycle.... Calm most of the time... nothing forthcoming, and then without warning, *BAM!* !@#$%! And then calm again...
That's why when i get an idea, I go all out in the start..... and then it peters down....... *cue to balloon deflating*
Wonder how I keep this blog going......