Of hearts, bouquets, and.. biscuits?
2 whole days to blog about... Phew... bear with me people...
So I think I told most of you the joke about what I was gonna do on V-day. Yes, I had a date with a guy. He's 12 and needed help in his English. :p
Then on that day itself, I GOT STOOD UP. And he had to get his MOTHER to do it for him. *tragic pose* Oh how sad my life can get... when even my tuition kid doesn't want to see me on Valentine's Day...
[Slayer's theory is that maybe the kid himself had a date, but I doubt my life has become THAT sad]
So suddenly my plans to escape all the sickly, lovey dovey on V-day with my tuition got dashed, and my night was suddenly free, and vulnerable to the innumerable roses and heart-shaped balloons crowding the streets.
I ended up in town with the Slayer first, walking and shopping, while thinking of as many songs about breakups, men-who-are-jerks, love-hurts songs we could. Instead of buying roses to console myself, I ended up with a whole buncha books instead. [unfortunately, the MPH in J8 is closing down and all their books were 30% off. There went my CNY takings.......] Most apt to the occassion was the one Slayer insisted on getting for me for my birthday: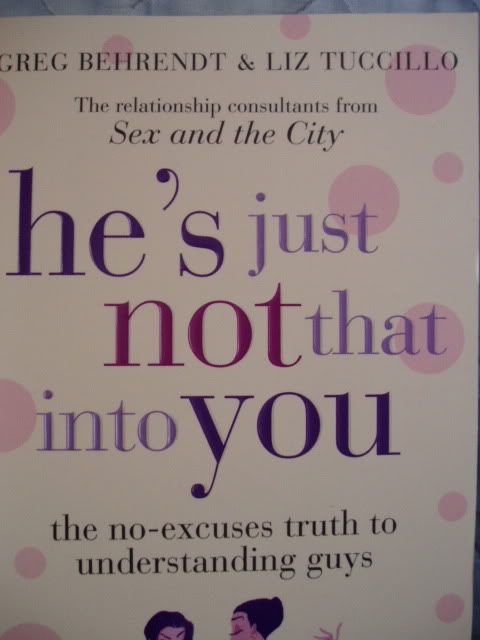 "It's very inspirational! I swear my life was changed when I read this book!"
Uh huh. I think my friend is trying to give me some kindly advice about Dragonfly......
We shopped at Kino, borders and Times while looking for her elusive US weekly, [Times bookshop has 20% off all books for Roosters upon producing valid ID. Just digressing] so I also ended up buying a coupla books. Bleah. Call it a form of monetary consolance for V-day, and at least the books will last a lot longer than a buncha roses.
After that, was dinner with Candle [many thanks for blowing off your colleagues to meet me. Heh.] and then coffee at Coffee Bean Scotts. You'd think that in Scotts, we'd be able to avoid the throngs of dovey-eyed lovers walking up and down Orchard. NO LOR. They still entered Scotts to show off their obscene bunches of floral vaginas in our faces. [Er, if you're wondering why I wrote that, you'd really have to watch the Bachelor, the movie starring Chris O'Donnell.] I enviously watched the women walking in with their significant others, until, GOSH!
Enter: Woman with this HUGE bouquet, that was bigger than her head. And that's not an exaggeration. It was a HUGE bouquet, and had roses, lilies, and a whole lot of other flowers sticking out of a bed of baby's breath, lovingly wrapped with pink and white paper. And of course she was with a guy.
GOSH. BITCH. KONO KUSO ONNA. My grapes became so sour they shrivelled into raisins, and then internally combusted into wine. I suddenly became filled with an urge to water her roses with my double vanilla ceylon latte.
"Wait!" Candle stopped me just as I was picking up my glass "Look at the guy! He's totally NOT CUTE LOR!" And it was true. The girl was pretty. The guy...... well, she could do a whole lot better.
"Well," I shrugged "There must be something she sees in him then."
"Ya, his wallet. That kind of bouquet so big, not cheap leh!"
Hence the hypothesis was formed:
That there is an inverse correlation between the size of a girl's bouquet, and the standard of looks of the guy who gave them.
I.e, the uglier the guy, the bigger the bouquet of the girl.
Upon testing our hypothesis upon our sample population, [4 other couples who walked into Scotts] we nodded solemnly to each other, and agreed that the hypothesis had been proven. Significantly better-looking guys would be more likely to present women with smaller and smaller bouquets, or even a single stalk of rose.
Explanations for this could be that the less certain the guy was of impressing the girl with his looks, the more he had to make up for it through the things he could buy for her. Hence, the more gifts from a guy to a girl, the more he is uncertain of himself, and the more insecure he is of his chances that the girl with stay with him.
WELL DONE. Hypothesis proven. More research could be done with other products, say chocolates, money, sex....
Ok, let's forget about V-day now....
The next day, [or rather today] had to wake up early to send Slayer and folks to airport, and then wait for Mother to return from Australia. [thankfully, no traffic jams, road accidents, schoolkids running in front of my car, or her parents getting heart attacks in my backseat due to my driving. I even managed to open the car boot. :p]
Mother came back with a bunch of stuff and news from Australia. Grandfolks are fine and well, thank goodness, and there were some goodies passed on to me.
First came the dolphin stuff. Even though my dolphin liking was in, say JC, my mother still firmly had it fixed in her mind that when it came to jewellery, they had to get something with dolphins in it for me, and together with my grandma hunted the jewellery store from top shelf to discount bin hunting for something with dolphins in it, coming up with the following: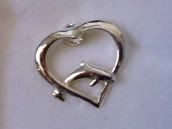 A dolphin brooch.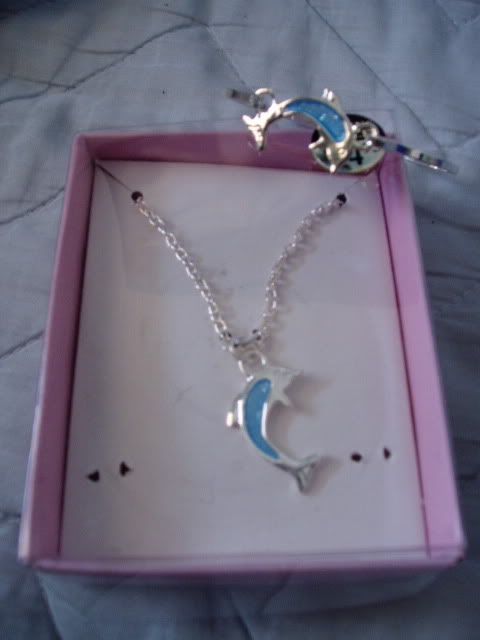 A necklace and matching bracelet.
And then the usual TIM-TAMS!!! 2 new packs of Tia Maria [Convulsing in chocolatey anticipation] and a bunch of Arnott's biscuits, the type with the cream fillings in the middle.
Plus an ang pow from Grandma to make up for the losses incurred at MPH's closing down sale. Although now that I have it, I'm tempted to go back there again. Heeeeeee.............
And other strange things: A leg of ham, for an aunt who's apparently very fond of it, [Ham! of all things!] and a carton of salted eggs for mom, made on the day that she left. [i'm surprised the eggs even made it here uncracked] Then Grandma's FRIDGE MAGNET COLLECTION of all things, because she was gonna throw them away anyway, so she gave them to mom.
And you guys saw the boots I wore for CNY to Quet's house? My mom bought cowboy-like boots there for TWICE THE PRICE. And she said it was CHEAP for those kinda boots. Good heavens...........
And typical of her, one of the first things she said upon entering the kitchen:
"Clean the sink later on! The dirt around the hole got a lot ah!"
Sigh. Welcome back, Mummy.