The best way to cheat someone out of hard earned riches.... hehehe....
http://www.giantitp.com/cgi-bin/GiantITP/ootscript?SK=129
And if you're not currently reading this most excellent comic regularly, WHY THE HECK NOT?? (well, apart from workfamilyfrenslovers-time-related issues anyway......)
More updates:
Do you guys realise that next year most of us will be turning 24?
[Ducks the cries of "NOOOOOOOOOOOOOO" and the rotten veggies thrown her way]
Ok...... *brushes a piece of cabbage off her arm* but which also means that next year is the year of the Rooster, which is OUR year.
Least, I hope it is. I could use a year of good luck, prosperity and fortune. (Notice how so many Chinese greetings have to do with money. Hmmm... )
And cos' of that, I had a flash of inspiration one night and started drawing cartoon chickens. Yes, cartoon chickens. Don't look at me like that, dammit! It's actually an idea for a short weblogcomicthingy that I'll put up here in Jan 05 till CNY.
Meanwhile, here's a taste of chicken: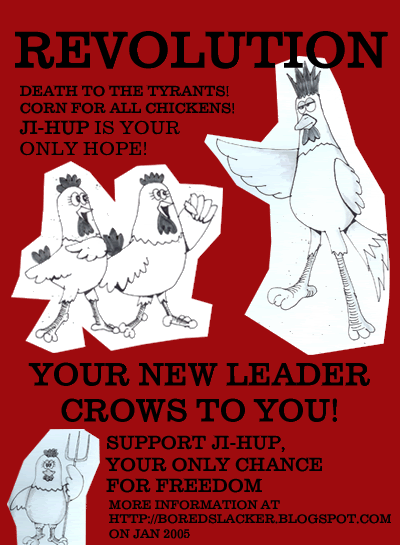 Yes, yes I know....... Too Much Time On Her Hands......