This blog has been updated and redecorated by Aki-Onna, 2005
Tuesday, May 31, 2011
Contact Me
Know me if you don't
Email me if you want
Crap I Just Wrote
For you all who don't read regularly, click here to see what you missed recently.
Artsy stuff
Below is a list of online portfolios that I have artwork or photography on, some older than others, all not frequently updated. -_-! Gomen! Do leave any comments though!
Twitpics
Flickr Photos
All cartoons and illustrations on this blog have been hosted courtesy of Flickr. Yay to Flickr!
Artwanted
Some better, wallpaper-quality stuff.
Side 7
Old stuff that I did. I don't use this site much anymore, but I do still love the stuff on it.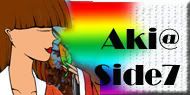 .
Google Me!
'Nuff said. You geeks should all know what this can do by now.
Blogroll
This is a listing of blogs that I currently read, and think are good enough for you to waste your bandwidth on as well.